Edgar's Homecoming...Rural Rhythm Records
Nashville, TN- February, 2019, Rural Rhythm Records announced the new single by Edgar Loudermilk Band featuring Jeff Autry "Lonesome Riverboat Blues."  Their debut Rural Rhythm Records album that is also titled "Lonesome Riverboat Blues" was released in April, 2019
"Lonesome Riverboat Blues" is written by bandmates Edgar Loudermilk, Jeff Autry, and Zack Autry.  Produced by Edgar Loudermilk and Jeff Autry, the single features the Edgar Loudermilk Band which includes Loudermilk (lead vocal, bass), Jeff Autry (guitar, harmony vocal), Zack Autry (mandolin, harmony vocal), Curtis Bumgarner (banjo) and Dylan Armour (dobro). 
Edgar Loudermilk explains. "I had this idea while we were at IBMA a few years ago, and started the song while staying with a friend in Raleigh. We ended up finishing it about a year later in Reno Nevada while doing a west coast tour. We wrote the song around the idea of growing up on an old time Riverboat; we all love John Hartford and had been listening to him and how he sang about the Riverboats, so we decided we wanted to write our own Riverboat song. When we all got together on this one it came to life , it has a kinda stick in your head melody figure throughout the song that makes folks wanna dance !". 
This is a homecoming for Loudermilk who was with Russell Moore & IIIrd Tyme Out on their two highly successful albums for Rural Rhythm Records. 
"We are so excited, and grateful to be reunited with Rural Rhythm Records!  It feels good to come back home to where a lot of great records I have been a part of all started. I've been friends with Sammy 3 for many years, and called to catch up with him, and started discussing the new record we were working on. Our discussions felt as though we have been there all along, and just had the right vibe. I knew we wanted to be back with our family at Rural Rhythm Records!  We are looking forward to what the future holds here!" – Edgar Loudermilk  
The album is available from the band or wherever digital downloads are available including iTunes , Amazon and for streaming on Spotify and Pandora. 
About the Edgar Loudermilk Band featuring Jeff Autry: 
Edgar Loudermilk comes from a long line of celebrated Bluegrass musicians including his father, grandfather and famous relatives The Louvin Brothers.  At age 20 he joined Carolina Crossfire who had quite a following in the Georgia area.  In 2001 he performed with Rhonda Vincent for almost a year before moving over to one of the greatest voices in Country Music Marty Raybon.  Loudermilk became the bass player and tenor singer in the newly formed group Full Circle and would back up Marty Raybon for almost five years. 
When Ray Deaton left IIIrd Tyme Out  Loudermilk became the newest member in 2007.  "I really love the music of this band," stated Loudermilk.  "Singing with Russell Moore is the compliment of my life because I don't believe there's a better singer anywhere." 
In addition to touring and performing, Edgar Loudermilk has had great success as a songwriter, with over 50 self-penned songs, many of which have been recorded by other artists.   In 2017 Edgar's self-penned song, "Can't Live Live," was recorded by Rhonda Vincent & Daryle Singletary as part of their American Grandstand album--that album debuted at #1 on the Billboard Bluegrass Chart, and in July of 2017, it was on Billboard's Top 10 of Top Current Country Albums, as well as No.1 on Billboard's Heatseekers Album Chart for the week of July 29, 2017.  The album went on to be #1 on Splice Today's Top 10 Country Albums of 2017. 
Loudermilk's solo album, Roads Travelled, showcased his vocal talents and his solid bass playing, but also his songwriting skills, having written or co-written all 12 tracks on the project.  In 2013 Loudermilk released, My Big Chance Tomorrow writting all the songs on the album. The album appeared on numerous radio charts and also appeared on the Roots Music Report's Top 100 Bluegrass Albums of 2014 chart.  In November 2013, Edgar joined Dave Adkins to form the new duo, Adkins & Loudermilk.  Their March 2015 debut album  hit numerous album and singles charts including the single "Georgia Mountain Man" which Loudermilk wrote about his grandfather.
On this album, the highly regarded Jeff Autry performs.  Jeff is one of the most talented guitarist of our time performing and recording with many of the bluegrass legends including Sam Bush, The Lynn Morris Band, Vassar Clements, Ricky Skaggs, Peter Rowan and the John Cowan Band.  Jeff Autry's  recording credits include the award-winning instrumental series Bluegrass 96 through Bluegrass 2001, his own solo album, Leftover Salmon mandolinist Drew Emmett's solo album, as well as the John Cowan Band's "Always Take Me Back,""New Tattoo," "Comfort And Joy," and "The Massenberg Sessions."   
Edgar and the band perform throughout the United States and Canada.
GEORGIA MAPLE – Edgar Loudermilk, John Curtis Goad, Bluegrass Today | August 15, 2016
To many bluegrass fans, Edgar Loudermilk is likely best known for his solid bass skills, particularly thanks to his long tenure with bluegrass favorites IIIrd Tyme Out. However, over the past few years, Loudermilk has begun to come into his own as a vocalist and as a solo artist, releasing two popular albums in 2013 – the solo effort My Big Chance Tomorrow, and a duo project with Dave Adkins under the name Adkins & Loudermilk. This year, he's officially struck out on his own with the Edgar Loudermilk Band, featuring Jeff Autry. In July, Pinecastle Records released Loudermilk's newest solo album (featuring the members of his band), Georgia Maple. 
Of the twelve songs here, Loudermilk wrote or co-wrote eight. Several of the best reflect on home, memories, and growing up. The opening track, My Kentucky Home, is one of the album's strongest, with a catchy melody and the familiar bluegrass tale of a man who realizes leaving home wasn't the best decision he ever made. It has a good modern traditional sound, with Zack Autry's mandolin particularly standing out. My Home in Caroline, written by Loudermilk and Autry along with the other two regular band members (guitarist Jeff Autry and dobro player Glen Crain), pulls together several popular bluegrass themes, as well. The singer has made a few mistakes – leaving the girl behind, rambling and gambling and so on – but now he's trying to make things right. 
The title track is another 'home" song from Loudermilk's pen, this time co-written with Scott Mehaffey. It's a well-written, mid-tempo number that uses a long-standing maple tree as a touchpoint for the many life events that have taken place on the singer's family farm. From commonplace things like plowing to more momentous occasions like the song's narrator building a house to begin a family of his own, the maple tree has seen it all – "just like you, I have ground now of my own," Loudermilk sings. Also well-written is Dreaming Enough to Get Me By. Written by Tony Ramey, the song will likely speak to many listeners. The singer tells of days spent "chasing bill after bill, running two steps behind" but shares that he allows himself just a little room to dream so that he doesn't lose hope in a better future. 
On the more upbeat, traditional bluegrass side of things is Trains Can't Turn Around, co-written by Loudermilk and Trey Ward. The song's pace is set by a banjo kick-off from guest Chris Wade, and Crain's dobro adds an extra bluesy kick to the number. Even bluesier is the (aptly-titled) Blues Ain't Coming Through My Door, a contribution from Loudermilk and former IIIrd Tyme Out bandmate Wayne Benson. Crain and Jeff Autry work well here together to create a nice groove, supporting Loudermilk as he declares that he's through letting heartbreak get him down. 
A pair of covers also stand out.Harvest of My Heart has a bit of a different feel from the rest of the album. Many of the versions of this song I've heard have featured a higher lead, but Loudermilk's arrangement works very well. He fills the lyrics with emotion as he shares the story of a farmer who tries hard to put his family and beloved wife first in all he does. On the album, it's followed by Bob McDill's It Must Be Love, which Don Williams took to number one on the country charts in 1979. Following in Williams's footsteps, Loudermilk takes a simple approach to the song, with plainspoken phrasing and stripped down, gentle instrumentation guided by Jeff Autry's guitar. Fans of the song should enjoy this version, which actually sticks fairly close to the original. 
Loudermilk has a distinctive voice in bluegrass music, and he uses it to nice effect on many songs here, especially when he's called upon to fill his vocals with passion, such as on Harvest of My Heart. The musicians in his band are all well-respected in bluegrass circles, and the country-tinged, modern traditional grass they create here is enjoyable. Though Wade is not a regular member of the band, his banjo playing fits well with the group's style and helps add a stronger bluegrass feel to several of the songs. Fans of Loudermilk's previous solo work should enjoy Georgia Maple. 
For more information on Edgar Loudermilk, visit his website at www.edgarloudermilk.com. His new album is available from several online music retailers.
Loudermilk's "Georgia Maple" Goes to #4 on Billboard Chart
GEORGIA MAPLE, released by Edgar Loudermilk July 1, 2016, made an impressive Billboard Chart debut at #4.
The album (to #1) and it's first single, "My Kentucky Home," (to #2) did very well on the AirPlay Direct charts, and continues to receive high praise and escalated play from radio programmers worldwide.
Joe Stutzman, DJ of Heartland Bluegrass on The Bluegrass 
Jamboree said "Georgia Maple is Edgar Loudermilk's
BEST album release to date!"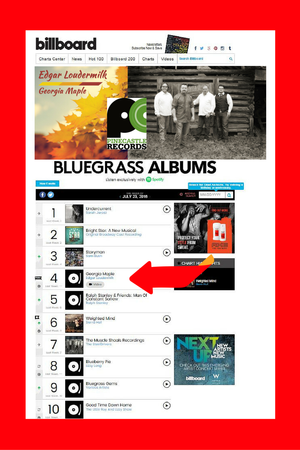 The first single from the album,"My Kentucky Home," showcased Loudermilk's songwriting prowess yet again. Having written or co-written eight of the twelve songs on GEORGIA MAPLE Loudermilk's bluegrass roots come across loud and clear with this recording.
Jeff Lipchik, DJ of Bluegrass from the Smokies on
Music Mix Central says "Edgar Loudermilk sings
one of my favorite 2016 songs, "My Kentucky Home".
The new release is comprised of phenomenal instrumentals and vocals from Edgar Loudermilk, bass player, together with his band mates, featured guitarist, Jeff Autry, Dobro player, Glen Crain, and mandolin player, Zack Autry; as well as impressive banjo player, Chris Wade.
Featured guitarist, Jeff Autry, also has a project "Foothills" recently re-released. 
"GEORGIA MAPLE," Reviewed By Bluegrass Unlimited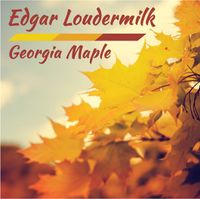 EDGAR LOUDERMILK
GEORGIA MAPLE
Among contemporary lead bluegrass singers, Edgar Loudermilk has one of the most distinctive, recognizable, and enjoyable voices in the business. His crisp baritone lead is powerful, cutting, and expressively tuneful. As with Russell Johnson and Junior Sisk, similarly strident voices, you can always find him in the mix and always want to.
For his Pinecastle debut, he includes eight originals along with four covers that include a jazz standard, "I'll See You In My Dreams," "Harvest Of My Heart", and a country hit from back in the '70s, "It Must Be Love." Two of the originals, "My Old Kentucky Home" and the slower "Homesick Blues," Loudermilk wrote. Both explore the theme of leaving home and longing to return. That same theme emerges on "My Home In Caroline," written with his bandmates, and again on "Georgia Maple," written with Scott Mehaffey. The latter is the best of the four, with a mid-tempo bounce that has a gospel hint. Also of note is the beautiful country tune he wrote with Lucias White, "Until Your Love Brings Me Back." Melodies don't get much better.
While all the covers are very good, the one that most stands out is Jerry Ramey's positive message song "Dreaming Enough To Get Me By." It's melodic to beat the band, catchy and has a very good arrangement.
Joining the bass-playing Loudermilk on a recording worthy of hearing in every respect are guitarist Jeff Autry, mandolinist Zack Autry, resonator guitarist Glenn Crain, and banjoist Chris Wade. This is the same group that backed Loudermilk on a 2015 release. That continuity and familiarity makes for a cohesive sound and presentation and gives the album an added boost. 
http://bluegrassmusic.com/content/2016/reviews/edgar-loudermilk-georgia-maple/