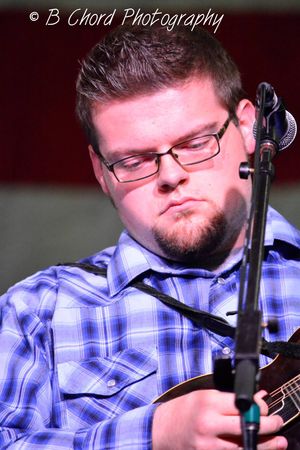 Zack Autry
Zack Autry comes from a long line of music lovers and musicians, coming by it naturally. He grew up singing and playing music in church and at family gatherings. He started playing the mandolin at age 8 and the fiddle around 9-10 years old. He is a self taught musician and singer who, although not instructed necessarily, but was nudged in the right direction by his musical mentors; notably, his father Jeff Autry and grandfather Bobby. Jeff Autry is one of the best acoustic flat pickers alive today and grandfather Bobby was a well-known upright bass and guitar player from North Georgia. Zack grew up on a strong foundation of gospel, bluegrass, and country music, and through his grandfather, a love and appreciation of the hundreds of fiddle tunes written and played around his home. Zack plays mandolin and fiddle, as well as guitar,
and has a smooth, strong voice capable of a wide range. Zack plays his Randy Wood model F-5 Mandolin, given to him by Randy personally in March 2016. You can read more about Zack's endorsement here: "ZACK AUTRY ENDORSED BY ACCLAIMED GEORGIAN MASTER LUTHIER RANDY WOOD"
Jamey Pittman 
The Edgar Loudermilk Band welcomes talented guitarist and north Georgia native Jamey Pittman.  Jamey's diverse music stylings--with influences that range from Flatt & Scruggs to Frank Zappa--are a welcome addition to the Edgar Loudermilk Band's catalog of songs.  Born into a musical family, Jamey began flat picking when he was just a youngster traveling to bluegrass festivals and shows with his Dad back in the 70's.  Jamey has been playing bands since the 1980's and as a member of the Edgar Loudermilk Band, Jamey handles everything from the straight-up, hard driving bluegrass to the jazzy swing styles that are a part of the Edgar Loudermilk Band sound.  
Wes Pettinger 
   Wes Pettinger, a seasoned veteran in the music industry, can "drive the five."  A Michigan native, Wes Pettinger, grew up with his father Bruce Pettinger as his first banjo hero.  Through the years, Wes has been inspired by many great banjo players, but has a hard-driving sound all his own.