"Among contemporary lead bluegrass singers, Edgar Loudermilk has one of the most distinctive, recognizable, and enjoyable voices in the business. His crisp baritone lead is powerful, cutting, and expressively tuneful. As with Russell Johnson and Junior Sisk, similarly strident voices, you can always find him in the mix and always want to." --Bluegrass Unlimited
Edgar Loudermilk's signature voice, bass skills, and songwriting are a family tradition for this Louvin Brothers' descendant. Having experienced a long tenure of performing, including several industry awards, with Russell Moore & IIIrd Tyme Out, Rhonda Vincent, and Marty Raybon, in 2015 Edgar Loudermilk stepped out forming his own band.   In addition to Loudermilk's bass playing and lead singing, band members include  Zack Autry (mandolin/harmony vocals),  Wes Pettinger (banjo), and Clint Coker (guitar).
The musical styling of the Edgar Loudermilk Band encompasses bluegrass, swing, gospel, and Americana genres.  The Edgar Loudermilk Band tours coast-to-coast and throughout Canada, as well as regulars on the popular bluegrass cruise circuit.  In addition, the band is proud to be on the Rural Rhythm Records label.
New Release..."I'll Put The Blame On You"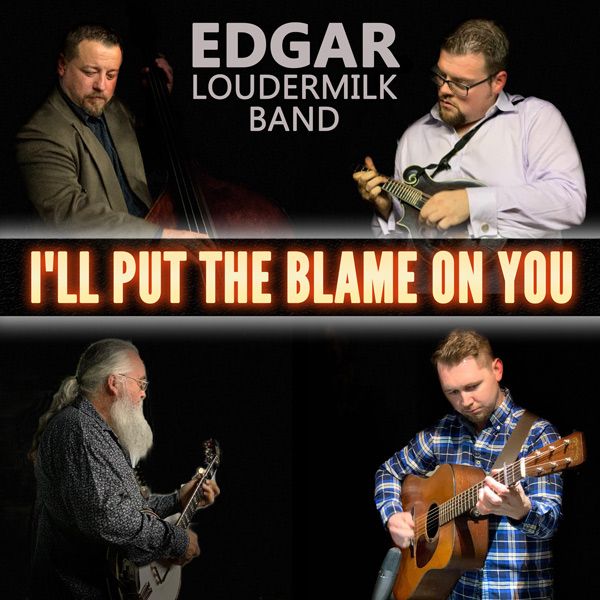 Released in late 2020, "I'll Put The Blame On You" (written by Edgar Loudermilk and Scott Mehaffey) snagged the #6 spot on SiriusXM Bluegrass Junction's Most Played List.
New Release..."The Dark Side of Lonesome"
Released in 2020, the "The Dark Side of Lonesome" includes special guest fiddler, the Grammy-award winning Michael Cleveland.  
"Lonesome" Is Catching On...
The new single "The Dark Side of Lonesome" is written by Edgar Loudermilk. "This is a song I wrote one night while traveling back home from a West Coast Tour. I wanted to try and write a song similar to Blue Yodel, that Russell Moore sang often while we were touring with IIIrd Tyme Out.  I always loved how he sang that old classic, and the feel of it!  It's sometimes hard to capture a groove like in a classic like that, but I felt good with this one, and the way it came together.  I actually wrote this one while driving home from Susanville, California, from behind the wheel while the rest of the band was sleeping.  It came together in my thoughts on those long roads, which is probably my favorite technique of writing a song, with no instrument involved.  Hope you enjoy this one, another song of 'Lonesome Love Loss' with a mean feel like an Old Yodel "– Edgar Loudermilk 
Produced by Edgar Loudermilk the new single features Edgar Loudermilk (lead vocal, bass), Zack Autry (mandolin, harmony vocal), Curtis Bumgarner (banjo) and Clint Coker (guitar) with special guest musician Michael Cleveland (fiddle).  
Here's Some Real "Lonesome" talk...
"Edgar Loudermilk is a triple threat combining superb songwriting skills, powerful lead vocals, and stellar band mates for his new single 'The Dark Side of Lonesome' from Rural Rhythm Records. This single certainly leaves the listener wanting more from the Edgar Loudermilk Band."   
Andrea Bradstreet, Producer/Host Rocky Mountain Breakdown, KRFC 88.9 fm, Radio Fort Collins.  
"Really strong vocal performance from a singer who is earning the moniker "Mr Big Voice." Beautifully arranged twin fiddle backing, too."   
Phil Nusbaum, KBEM-FM, Minneapolis  
"It's always exciting to get new music that makes you want to hear it again. I knew that Edgar had a good one here when I got to the end and put it on again. This also proved that he has an endless and bottomless well of melodies and lyrics. Time to go hear it again." Ernie Evans, WFCF 88.5FM St. Augustine, FL  
"The Dark Side of Lonesome comes on with a drive that will keep your heals tapping and your head bobbing all the way through.  The banjo's drive is really crisp and clean!  The mandolin and guitar carry the rhythm really strong!  Then you top that off with Edgar's strong, clear vocals and bass drive!  Edgar's yodeling blows me away and is the icing on the cake!  One great song!All this is one 'high lonesome bluegrass hit song!"   
Jerry Eicher, Ol Hippie Bluegrass Show  
"If this new single by Edgar Loudermilk and his band is any indication of the what the forthcoming album will sound like - Bluegrass music is going to be very pleased with another great release from this veteran bassist and songwriter."  
Bill Foster, Foster's Corner – Bell Buckle Radio  
" 'Lonesome' is a perfect word to describe how some are feeling during our pandemic days, but 'The Dark Side of Lonesome' is a really terrific new song from the Edgar Lourdermilk Band. This Bluesy original hits all the right notes, and is sure to be a great success for the band."   
Amy Orlomoski, Bluegrass Café, WHUS Storrs 81.7fm  
"Played Edgar's new single The Dark Side of Lonesome on Blue Grass Time - Nice Job!"  
Buddy Merriam, Blue Grass Time-Sound Beach, NY  
"'The Dark Side of Lonesome' is the perfect single to get listeners excited for Edgar's upcoming project.  The band has a driving sound and with guest fiddler Michael Cleveland adding the right amount of that lonesome sound to a familiar subject and shows how this band continues to push bluegrass forward."  
Rita Small, Bluegrass In The Valley  
"Loudermilk writes a gem about parting on a rainy morning. Nice Fiddle work from Michael Cleveland."  
Janice "Busgal" Brooks, Live 365 station Bus of Real Country  
"The Dark Side of Lonesome...Once again the Edgar Loudermilk Band blended all the right ingredients for Authentic Bluegrass...I love it!"  
Big Al Weekly 
"I'll be playing the Edgar's single on Pacific Pickin' tomorrow! "    
Arthur Berman, Pacific Pickin'-West Vancouver, BC 
"Lonesome Riverboat Blues" Available!